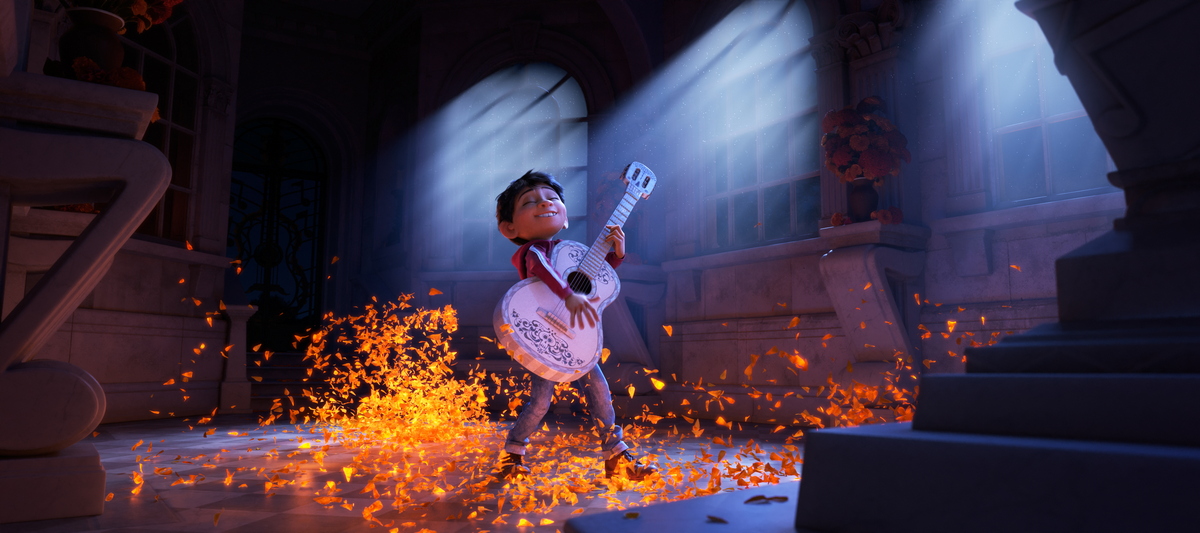 Les projets sélectionnés pour la 54ème édition des Annie Awards, qui se tiendront le 3 février 2018 à Los Angeles, ont été annoncés.
Coco, des studios Pixar, se taille la part du lion avec pas moins de 13 sélections dans les 36 catégories que compte la remise de prix. Le film d'animation The Breadwinner de Nora Twomey est juste derrière avec 10 récompenses potentielles.
Vous retrouverez ci-dessous la liste complète, catégorie par catégorie. Notez par ailleurs que des prix spéciaux seront attribués à l'animateur James Baxter, au créateur de Bob L'Eponge Stephen Hillenburg, et au duo d'animatrices canadiennes Wendy Tilby & Amanda Forbis. Un prix sera également remis au logiciel TVPaint.
PRODUCTION CATEGORIES
Best Animated Feature
"Captain Underpants: The First Epic Movie"
DreamWorks Animation
"Cars 3″
Pixar Animation Studios
"Coco"
Pixar Animation Studios
"Despicable Me 3″
Illumination
"The Boss Baby"
DreamWorks Animation
Best Animated Feature-Independent
"In This Corner of the World"
Taro Maki, GENCO, Inc. and Masao Maruyama, MAPPA Co., Ltd
"Loving Vincent"
BreakThru Films, Production Company Trademark Films, Co-Production Company
"Napping Princess"
Nippon TV
"The Big Bad Fox & Other Tales"
Folivari/Panique!/Studiocanal
"The Breadwinner"
Cartoon Saloon/Aircraft Pictures/Melusine Productions
Best Animated Special Production
Imaginary Friend Society "Feeling Sad"
Hornet
"Olaf's Frozen Adventure"
Walt Disney Animation Studios
"Pig: The Dam Keeper Poems"
Tonko House, Inc.
"Revolting Rhymes"
Magic Light Pictures
"Tangled Before Ever After"
Walt Disney Television Animation
Best Animated Short Subject
"Dear Basketball"
Glen Keane Productions, Kobe Studios, Believe Entertainment Group
"Hedgehog's Home"
National Film Board of Canada, Bonobostudio
"Negative Space"
IKKI Films/Manuel Cam Studio
"Scavengers"
Titmouse, Inc./Adult Swim
"Son of Jaguar"
Google Spotlight Stories, Reel FX
Best Animated Television/Broadcast Commercial
"Biscotti. Una storia buona"
Hornet
"June"
Broad Reach Pictures/Chromosphere/Lyft
"League of Legends 'Legends Never Die'"
Passion Animation Studios
"Please the Cheese"
Psyop
"Sainsbury's 'The Greatest Gift'"
Passion Animation Studio
Best Animated Television/Broadcast Production For Preschool Children
"Mickey and the Roadster Racers" / Episode: Goofy Gas!
Walt Disney Television Animation
"Octonauts" / Episode: Operation Deep Freeze
Vampire Squid Productions Limited, a Silvergate Media company, in association with Brown Bag Films
"Peg + Cat, The Mariachi Problem" / Episode: 220B, The Mariachi Problem
The Fred Rogers Company/100 Chickens Productions
"The Stinky & Dirty Show" / Episode: HaHaHigher / The Waiting Game
Amazon Studios
"Through the Woods" / Episode: A Snowy Morning
Houghton Mifflin Harcourt, The Fred Rogers Company, PIP Animation Services
Best Animated Television/Broadcast Production For Children
"Buddy Thunderstruck" / Episode: To Protect and Swerve / Robo Truck of the Future
Stoopid Buddy and American Greetings for Netflix
"Lost in Oz" / Episode: The Pearl of Pingaree
Amazon Studios
"Niko and the Sword of Light" / Episode: From the Cliffs of Catastrophe to the Pools of Destiny
Amazon Studios
"Tangled: The Series" / Episode: Queen for a Day
Walt Disney Television Animation
"We Bare Bears" / Episode: Panda's Art
Cartoon Network Animation Studios
Best General Audience Animated Television/Broadcast Production
"Big Mouth" / Episode: Am I Gay?
Netflix
"BoJack Horseman" / Episode: Stupid Piece of Sh*t
Tornante Productions, LLC for Netflix
"Rick and Morty" / Episode: 303 -"Pickle Rick"
Williams Street Productions
"Robot Chicken" / Episode: Freshly Baked: The Robot Chicken Santa Claus Pot Cookie Freakout Special: Special Edition
Stoopid Buddy Stoodios
"Samurai Jack" / Episode: XCIII
Adult Swim
Best Student Film
"Cradle"
Devon Manney
"Elsewhere"
Junyi Xiao
"Good Night, Everybuds!"
Director: Benedikt Hummel, Sound Design & Mix: Lena Beck, Music: Andreas Pfeiffer, Producer: Stefan Michel
"Once a hero"
Xia Li
"Poles Apart"
Director: Paloma Baeza; Producer: Ser En Low, All Student Crew
INDIVIDUAL ACHIEVEMENT CATEGORIES
Outstanding Achievement, Animated Effects in an Animated Production
"Avatar Flight of Passage"
VFX Supervisor: Thrain Shadbolt Sr.; Richard Baneham; Compositing Supervisor: Sam Cole; CG Supervisor: Pavani Rao Boddapati; Daniele Tosti
"Cars 3"
Development & Effects Artist: Amit Baadkar; Effects Lead: Greg Gladstone; Stephen Marshall; Tim Speltz; Effects Supervisor: Jon Reisch
"Coco"
Effects Artist: Shaun Galinak; Jason Johnston; Carl Kaphan; Effects Lead: Dave Hale; Keith Daniel Klohn
"Despicable Me 3"
Computer Graphics Supervisor: Bruno Chauffard; Frank Baradat; Lighting & Compositing Supervisor: Nicolas Brack; Effects Supervisor: Milo Riccarand
"Olaf's Frozen Adventure"
Head of Effects: Christopher Hendryx; Effects Animator: Dan Lund; Mike Navarro; Hiroaki Narita; Steven Chitwood
Outstanding Achievement, Character Animation in an Animated Television/Broadcast Production
"DreamWorks Trolls Holiday"
Character Animator: Kevan Shorey (Character: All Characters)
"DreamWorks Trolls Holiday"
Lead Animator: Ben Willis (Character: All Characters)
"DreamWorks Trolls Holiday"
Character Animator: Onur Yeldan (Character: All Characters)
"Trollhunters" / Episode: 205 – "Homecoming"
Character Animator: Bruno Chiou; Yi-Fan Cho (Character: Blinky, Dictatious, Aaarrrgghh!!); Lead Animator: Kevin Jong; Chun-Jung Chu (Character: Blinky, Dictatious, Aaarrrgghh!!)
"Tumble Leaf" / Episode: Rutabagels / Okra-Ball
Character Animator: Michael Granberry (Character: Maple, Fig, Stick and Okra); Joe Heinen (Character: Fig, Gourd, Coco, Maple, Pine, Zucchini, Okra, Grubs, Chicks and Beetle Bus); Rachel Larsen (Character: Coco, Pine, Maple, Fig, Stick and Okra); Hilary Lile (Character: Maple, Fig and Okra); Dan MacKenzie (Character: Pine, Fig, Gourd, Rutabaga, Beetles, Coco, Okra and Maple)
Outstanding Achievement, Character Animation in a Feature Production
"Coco"
Animator: John Chun Chiu Lee (Character: All characters)
"Coco"
Animator: Allison Rutland (Character: All characters)
"The Big Bad Fox & Other Tales"
Animator: Marco Nguyen (Character: all characters in scene); Directing Animator: Benjamin Renner (Character: all characters in scene); Supervising Animator: Patrick Imbert (Character: all characters in scene)
"The Boss Baby"
Animation Supervisor: Bryce McGovern (Character: various)
"The Boss Baby"
Animation Supervisor: Rani Naamani (Character: various)
Outstanding Achievement, Character Animation in a Live Action Production
"Game of Thrones" / S7 Ep.6 Beyond The Wall
Animation Supervisor: Paul Story; Animation Lead: Todd Labonte; Creatures Lead: Matthew Muntean; Senior Modeller: Cajun Hylton; Texture Artist: Georgy Arevshatov
"Guardians of the Galaxy Vol. 2"
Animation Supervisor: Arslan Elver; Lead Animator: Liam Russell; Alvise Avati; Alessandro Cuicci
"Kong: Skull Island"
Animation Supervisor: Jance Rubinchik; Animation Lead: Adrian Millington; Animator: Alberto Martinez Arce; Kyle Winkelman
"Valerian and the City of a Thousand Planets"
Senior Facial Modeller: Andrei Coval; Animation Supervisor: Paul Story; Eric Reynolds; Shader TD: Olivier Lesaint; Shader TD: Artur Vill
"War for the Planet of the Apes"
Animation Supervisor: Daniel Barrett; Sidney Kombo Kintombo; Emile Ghorayeb; Lead Motion Editor: Luisma Lavin Peredo; Lead Facial Modeller: Alessandro Bonora
Outstanding Achievement, Character Animation in a Video Game
"Cuphead"
Lead Animator: Hanna Abi-Hanna (Characters: The Devil, Grim Matchstick, Beppi The Clown, Werner Werman)
"Cuphead"
Lead Animator: Tina Nawrocki (Characters: Baroness Von Bon Bon, Hopus Pocus, Pirouletta, Giant, Tipsy Troupe, Lobster, Porkrind, Dragonfly, The Devil – DEATH)
"Hellblade: Senua's Sacrifice"
Character Animator: Chris Goodall; Jitaik Lim; Kirill Spiridonov (Character: Senua)
"Horizon Zero Dawn"
Lead Animator: Richard Oud (Character: All mechanical creatures); Kevin Quaid (Character: All humanoids); Character Animator: Niek Neervens; Jonathan Colin (Character: All humanoids); Character Animator: Peer Lemmers (Character: All mechanical creatures)
"Uncharted: The Lost Legacy"
Lead Animator: Almundena Soria; Keith Paciello; Paul Augustus Davies (Character: All Characters);
Outstanding Achievement, Character Design in an Animated TV/Broadcast Production
"Buddy Thunderstruck" / Episode: Buddy Double / Beaver Dam Fast Pizza
Character Designer: Ryan Wiesbrock; Becky van Cleve; Rob Ronning; Nikki Rice Malki; Felicia Bleu Rose (Character: Buddy Thunderstruck, Darnell, Moneybags, Big Tex, Jacko + all other characters)
"Danger & Eggs" / Episode: Tube of Pain / Broccoli
Character Design: Mike Owens (Character: Phillip)
"Samurai Jack" / Episode: XCVI
Character Design: Craig Kellman (Character: Various)
"Tangled: The Series" / Episode: Tangled Before Ever After
Co-Executive Producer: Shane Prigmore (Character: Rapunzel, Eugene, Maximus, Cassandra); Character Designer: Bobby Pontillas (Character: King Frederick, Queen Arianna, Landy Caine, Fidella); Character Designer: Taylor Krahenbuhl (Character: Pub Thugs); Character Designer: Mayumi Nose (Character: Pascal)
"Trollhunters" / Episode: Ep 201 – "Escape from the Darklands"
Character Designer: Jules Rigolle; Alfredo Torres (Character: Goblins, Dictatious, Enrique, Gum Gums, Gunmar, Queen Usurna, Nyarlagroth); Lead Texture Artist: Linda Chen (Character: Goblins, Dictatious, Enrique, Gum Gums, Gunmar, Queen Usurna, Nyarlagroth); Art Director: Rustam Hasanov (Character: Gunmar, Goblins and Gumm Gumms); Color Key Artist: Alfonso Blaas (Character: Enrique, Goblins, Queen Usurna, Nyarlagroth, Gumm Gumms)
Outstanding Achievement, Character Design in an Animated Feature Production
"Coco"
Character Art Director: Daniel Arriaga (Character: All characters); Additional Character Art Direction: Daniela Strijleva (Character: All characters); Character Design/Sculptor: Greg Dykstra (Character: All characters); Character Modeller: Alonso Martinez (Character: All characters); Character Designer: Zaruhi Galstyan (Character: All characters)
"Despicable Me 3"
Character Designer: Eric Guillon (Character: All, Balthazar Bratt, Dru, Gru, Minions, Valerie Da Vinci, Gru's Mom, Vincenzo, Freedonians)
"Smurfs: The Lost Village"
Character Designer: Patrick Mate (Character: Multiple Characters)
"The Boss Baby"
Character Designer: Joe Moshier (Character: Various)
"The Breadwinner"
Character Design: Reza Riahi (Character: Story World Characters/Rough Design); Character Design: Louise Bagnall (Character: Story World Characters/Clean Character Design); Concept Artist/Character Texture Artist: Alice Dieudonné (Character: Story World Characters/Texture Design)
Outstanding Achievement, Directing in an Animated TV/Broadcast Production
"Disney Mickey Mouse" / Episode: The Scariest Story Ever: A Mickey Mouse Halloween Spooktacular!
Director: Dave Wasson; Director: Eddie Trigueros; Director: Alonso Ramirez-Ramos
"Dragons: Race to the Edge" / Episode: Sandbusted
Director: T.J. Sullivan
"Tangled: The Series" / Episode: Tangled Before Ever After
Director: Tom Caulfield; Director: Stephen Sandoval
"The Simpsons – Treehouse of Horror XXVIII"
Director: Timothy Bailey
"Trollhunters" / Episode: Ep 211 – "Unbecoming"
Director: Andrew Schmidt
Outstanding Achievement, Directing in an Animated Feature Production
"Coco"
Director: Lee Unkrich Pixar; Co-Director: Adrian Molina
"The Big Bad Fox & Other Tales"
Co-Director: Benjamin Renner; Co-Director: Patrick Imbert
"The Boss Baby"
Director: Tom McGrath
"The Breadwinner"
Director: Nora Twomey
"The LEGO Batman Movie"
Director: Chris McKay
Outstanding Achievement, Music in an Animated TV/Broadcast Production
"Disney Mickey Mouse" / Episode: The Scariest Story Ever: A Mickey Mouse Halloween Spooktacular!
Composer: Christopher Willis
"Home Adventures With Tip & Oh" / Episode: Ep 030A – "Chercophonie"
Composer: Alex Geringas
"Lego Star Wars: The Freemaker Adventures / Episode: Trouble on Tibalt
Composer: Michael Kramer
"The Powerpuff Girls" / Episode: Home, Sweet Homesick
Composer: Mike Reagan, Lyricist: Bob Boyle
"Tumble Leaf" / Episode: The Nature Of Friendship / The Ship Shop
Composer/Lyricist: Lisbeth Scott
Outstanding Achievement, Music in an Animated Feature Production
"Captain Underpants: The First Epic Movie"
Composer: Theodor Shapiro
"Coco"
Composer: Michael Giacchino; Composer/Lyricist: Kristin Anderson-Lopez; Composer/Lyricist: Robert Lopez; Composer: Germaine Franco; Lyricist: Adrian Molina
"Loving Vincent"
Composer: Clint Mansell
"Olaf's Frozen Adventure"
Composer/Lyricist: Elyssa Samsel; Kate Anderson; Composer: Christophe Beck
"The Breadwinner"
Composer: Mychael Danna; Jeff Danna
Outstanding Achievement, Production Design in an Animated TV/Broadcast Production
"Big Hero 6 The Series" / Episode: Baymax Returns
Production Design: Ben Plouffe; Mark Taihei; Chris Whittier; Sylvia Filcak; Amy Chen
"Disney Mickey Mouse" / Episode: The Scariest Story Ever: A Mickey Mouse Halloween Spooktacular!
Production Design: Jenny Gase-Baker; Justin Martin
"June"
Production Design: Jasmin Lai; Théo Guignard; Arthur Chaumay; Tiffany Ford; Sylvia Liu
"Samurai Jack" / Episode: XCIII
Production Design: Scott Wills
"The Loud House" / Episode: "Tricked!"
Production Design: Amanda Rynda; Larry Murphy; Edgar Duncan; Hallie Wilson; Jared Morgan
Outstanding Achievement, Production Design in an Animated Feature Production
"Coco"
Production Design: Harley Jessup; Danielle Feinberg; Bryn Imagire; Nathaniel McLaughlin; Ernesto Nemesio; Tom Cardone; Arden Chan
"Ferdinand"
Production Design: Andrew Hickson; Mike Lee; Jason Sadler
"LEAP!"
Production Design: Florent Masurel; Pierre-Antoine Moelo; Julien Meillard; Jean-Jacques Cournoyer
"Mary and The Witch's Flower"
Production Design: Tomotaka Kubo; Tomoya Imai; Satoko Nakamura
"The Breadwinner"
Production Design: Ciaran Duffy; Julien Regnard; Daby Zainab Faidhi
Outstanding Achievement, Storyboarding in an Animated TV/Broadcast Production
"Disney Mickey Mouse" / Episode: Bee Inspired
Storyboard Artist: Eddie Trigueros
"Home for the Holidays" / Episode: Ep 900 – "Tip and Oh: Home for the Holidays"
Storyboard Artist: Ben Bury
"Niko and the Sword of Light" / Episode: From the Phantom Woods to the Mountains of Misery
Storyboard Artist: Kim Arndt; Alexandria Kwan
"Trollhunters" / Episode: 205 – "Hero with a Thousand Faces"
Storyboard Artist: David Woo
"Trollhunters" / Episode: 213 – "In the Hall of the Gumm-Gumm King"
Storyboard Artist: Hyunjoo Song
Outstanding Achievement, Storyboarding in an Animated Feature Production
"Coco"
Storyboard Artist: Dean Kelly
"Coco"
Storyboard Artist: Madeline Sharafian
"The Boss Baby"
Storyboard Artist: Glenn Harmon
"The Breadwinner"
Storyboard Artist: Julien Regnard
"The Star"
Storyboard Artist: Louie del Carmen
Outstanding Achievement, Voice Acting in an Animated TV/Broadcast Production
"BoJack Horseman" / Episode: Time's Arrow
Wendie Malick as Beatrice Horseman
"Bunsen Is a Beast"
Jeremy Rowley as Bunsen
"Disney Mickey Mouse" / Episode: The Scariest Story Ever: A Mickey Mouse Halloween Spooktacular!
Chris Diamantopoulos as Mickey Mouse
"SpongeBob SquarePants"
Tom Kenny as SpongeBob SquarePants
"The Amazing World of Gumball" / Episode: The Grades
Nicolas Cantu as Gumball
Outstanding Achievement, Voice Acting in an Animated Feature Production
"Captain Underpants: The First Epic Movie"
Nick Kroll as Professor Poopypants
"Coco"
Anthony Gonzalez as Miguel
"The Breadwinner "
Saara Chaudry as Parvana
"The Breadwinner"
Laara Sadiq as Fattema
"The LEGO Batman Movie"
Zach Galifianakis as Joker
Outstanding Achievement, Writing in an Animated TV/Broadcast Production
"Archer" / Episode: Archer Dreamland: Jane Doe
Writer: Adam Reed
"Disney Mickey Mouse" / Episode: Locked in Love
Writer: Darrick Bachman
"Milo Murphy's Law" / Episode: The Island of the Lost Dakotas
Writer: Joshua Pruett
"Rick and Morty" / Episode: 307 – "The Ricklantis Mixup"
Writer: Ryan Ridley; Dan Guterman
"Trollhunters" / Episode: 201 – "Escape from the Darklands"
Writer: AC Bradley; Kevin Hageman; Dan Hageman; Aaron Waltke; Chad Quandt
Outstanding Achievement, Writing in an Animated Feature Production
"Coco"
Writer: Adrian Molina; Matthew Aldrich
"Loving Vincent"
Writer: Dorota Kobiela; Hugh Welchman; Jacek Dehnel
"Mary and The Witch's Flower"
Writer: Riko Sakaguchi; Hiromasa Yonebayashi; David Freedman; Lynda Freedman
"The Breadwinner"
Writer: Anita Doron
Outstanding Achievement, Editorial in an Animated TV/Broadcast Production
"Bob's Burgers" / Episode: Bob, Actually
Mark Seymour; Chuck Smith; Eric Davidson
"BoJack Horseman" / Episode: Stupid Piece of Sh*t
Jose Martinez
"Dinotrux" / Episode: Ep 053 – "Superchargers"
William Rinaldi; Justin Baker
"Pickle and Peanut" / Episode: Bear-I-cade
John Royer
"Samurai Jack" / Episode: XCIII, XCIV, XCIX
Paul Douglas
Outstanding Achievement, Editorial in an Animated Feature Production
"Coco"
Steve Bloom; Lee Unkrich; Greg Snyder; Tim Fox
"Ferdinand"
Harry Hitner; Tim Nordquist
"The Breadwinner"
Darragh Byrne
"The LEGO Batman Movie"
David Burrows; Matt Villa; John Venzon
"The Star"
Pamela Ziegenhagen