This article is available in:
French
Back in 2020, systemic issues at Ubisoft were brought to light: dozens of complaints about harassment, misconduct, and other issues such as a toxic environment were unveiled.
Here are the latest developments on the complaint filed last year in France against Ubisoft and key individuals within the company, as well as the latest statement released by the Ubisoft employee collective A Better Ubisoft.
Ubisoft sexual harassment allegations: a short reminder
As many of you already know, the allegations against Ubisoft were revealed by several media outlets such as Liberation, Numerama, Mediapart in France, La Presse in Canada, Kotaku, Gamedeveloper in the USA. Several news articles unveiled testimonies of victims and witnesses from various Ubisoft studios. According to these articles, HR departments as well as managers failed to act when they learned about the systemic issues. Even worse: according to those testimonies, the company protected and promoted known offenders.
Following these allegations, Ubisoft publicly pledged to improve the situation and to investigate claims of abuse. Many employees or former employees, however, quickly expressed doubts and complained about insufficient reforms.
A Better Ubisoft denounces the behavior of the studio: "None of our demands have been met"
These doubts, unfortunately, did not fade away. A Better Ubisoft, a collective of employees and former employees of the studio, openly criticized the way the latest employee satisfaction survey was handled. They explain that the Ubisoft provided mostly "vague statements" and that "with the exception of participation and engagement scores, the talking points were delivered with no numbers". A Better Ubisoft also states that the management team are "either accidentally ignorant or simply don't want to listen" and that the collective is "tired of having to explain […] seemingly obvious points".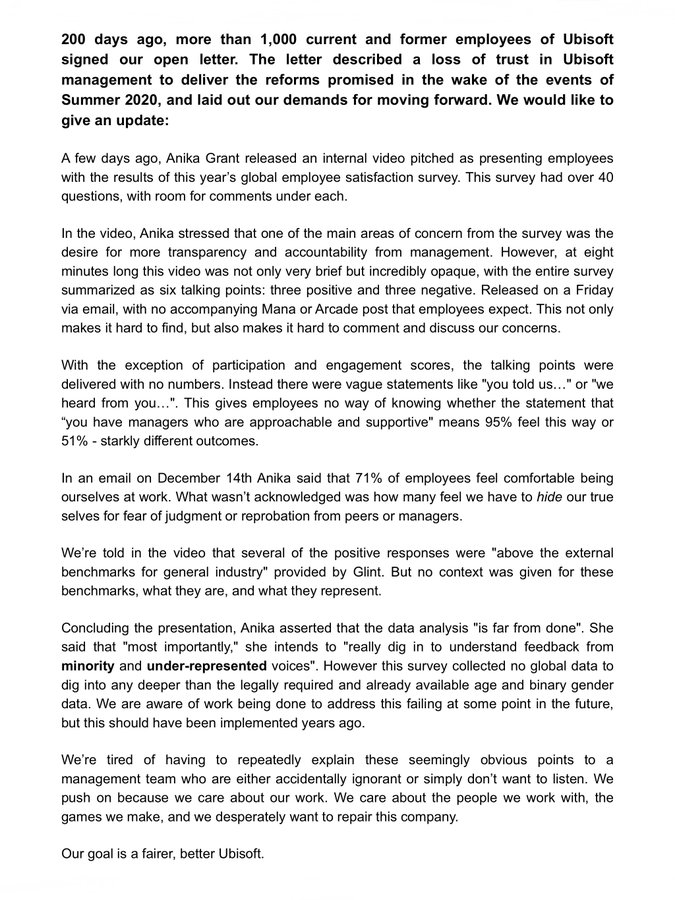 A Better Ubisoft also states that since they released an open letter more than 200 days ago, "none of [their] demands have been met". As a reminder, here are their four key demands:
"1. Stop promotion and moving known offenders from studio to studio, team to team with no repercussion. This cycle needs to end."
"2. We want a collective seat at the table, to have a meaningful say in how Ubisoft as a company moves forward from here."
"3. Cross-Industry collaboration, to agree on a set of ground rules and processes that all studios can use to handle these offences in the future."
"4. This collaboration must heavily involve employees in non-management positions and union representatives."
Last, but not least, A Better Ubisoft once again asks everyone supporting their fight continue to sign and share their petition.
A complaint against Ubisoft in France
Last summer, French worker union Solidaires Informatique filed a complaint against Ubisoft and some of its current and former employees, accusing them of "creating and institutionalizing a system in which moral harassment, sexual harassment were tolerated in the company". Solidaires Informatique alleges that Ubisoft chose not to act because "it was more profitable for the company to keep in place known offenders than to protect their employees".
A few days ago, Solidaires Informatique announced that this complaint is now being handled by the French police, and that judicial hearings are being held. The worker union once again invited victims and witnesses to get in touch with them, including those who might have signed a contract forbidding them to take any legal action against the company. Solidaires Informatique wants to investigate if there is a way to circumvent this issue. Solidaires Informatique also denounces the fact that "no harasser has faced justice" until now, and that some of them have not been fired.
Last, but not least, the worker union highlighted that you don't need to have joined Solidaires Informatique to get in touch with them, that any legal expense will be taken care of by them, and that anonymity is guaranteed.
here are the e-mail adresses of the union and their lawyer: temoignages@solidairesinformatique.org / beckers@bcl-avocates.com
More to come
We will keep you informed on further updates.
In the meantime, we would like to remind you that organizations can be helpful if you are the victim or witness of sexual harassment. AVFT, for example, is a French association fighting sexist and sexual violence in the workplace. They provide, among other things, legal help and support to assist victims trying to fight for their rights.