Terrence Mason, actif dans le SIGGRAPH depuis 1988, artiste et technicien de renom -auteur du livre CG 101: A Computer Graphics Industry Reference, il est aussi à l'origine du pipeline de South Park en 1996, et a travaillé sur de nombreux films-, donnera une conférence à paris le 28 novembre.
Elle se tiendra à Paris, dans l'Université Paris 3, de 19 à 21 heures.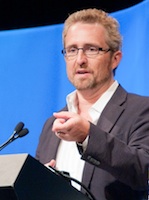 Voici le descriptif :
The History (and future) of Computer Graphics : The People Behind the Pixels
(Conférence en anglais)
(Cette conférence sera aussi donnée à Limoges, dans le cadre des journées de l'AFIG, le 28 novembre 2013)
Professionals and academics from every discipline are increasing their collaboration with computer graphics around the world while continuously raising the bar of excellence at the same time. This presentation covers some 6o years of highlights and 25 years of personal experience in film, animation, interactive media, art and games. Highlights include rare international historical examples of academic / professional collaboration and behind the scenes stories. Audience members will come away with a new and rich appreciation for the people behind the pixels that gave birth to our maturing but still young collection of computer graphic industries.  
COLLABORATION
After 20 years of production experience, Masson's current endeavors at Northeastern University are based fundamentally around experiential learning; that is learning by doing. Computer graphics now more then ever allow us to actively collaborate and create with others outside of our own peer group. Rather then an occasional opportunity, we have before us now unlimited potential to foster interdisciplinary, team-based experiences between individuals, college departments and outside production partners.
 
EXCELLENCE
The intersection of computer graphic art, science and technology has never been more all encompassing across so many fields. Like the original birth of Computer Graphics, we must build things that matter by not only thinking revolutionary .. but acting revolutionary as well. While resistance to convention is certainly nothing new in the history of computer graphics, learning how to thrive is not always easy. A comprehensive awareness of historical examples and current international standards of excellence is critical to today's students, artists and practitioners.
Author of the industry standard textbook « CG101: A Computer Graphics Industry Reference », Director of Northeastern University's Creative Industries Terrence Masson oversees all undergraduate and graduate Game Design and Interactive Media curriculum and research activities. In addition he also serves on and Chairs numerous interdisciplinary committees developing University-wide team-based projects. He is a member of the Producers Guild of America and founding member of the Visual Effects Society.
Terrence has been active in SIGGRAPH since 1988, most recently as the 2006 Computer Animation Festival Chair and currently as SIGGRAPH 2010 Conference Chair. 
SHOTS magazine called Terrence "Possibly the most mobile practitioner in the CG industry" [Nov. 98]. With 20 years of very eclectic production experience, he has served his own consulting company « Digital Fauxtography » as a Creative Producer, Director and VFX Supervisor. Terrence came up through the ranks on about 20 feature films including three Star Wars movies, Hook, True Lies and Interview with a Vampire. He is also well known for single-handedly developing the original CG pipeline for SouthPark in 1996 and as the on-camera image analysis expert for the History Channel's UFO Hunters.
 
Interactive projects have included Cyberia2, SimCity4, Batman:  Dark Tomorrow, Alter Echo and the Xbox launch title Bruce Lee. As an award-winning Director & Producer his short animated film Bunkie & Booboo won first place in the World Animation Celebration in 1998. He currently is an active international lecturer and consults with major production studios world-wide.
Terrence Masson : www.visualfx.com 
Creative Industries : Northeastern University www.northeastern.edu/ci 
« CG101: A Computer Graphics Industry Reference » www.cg101.com