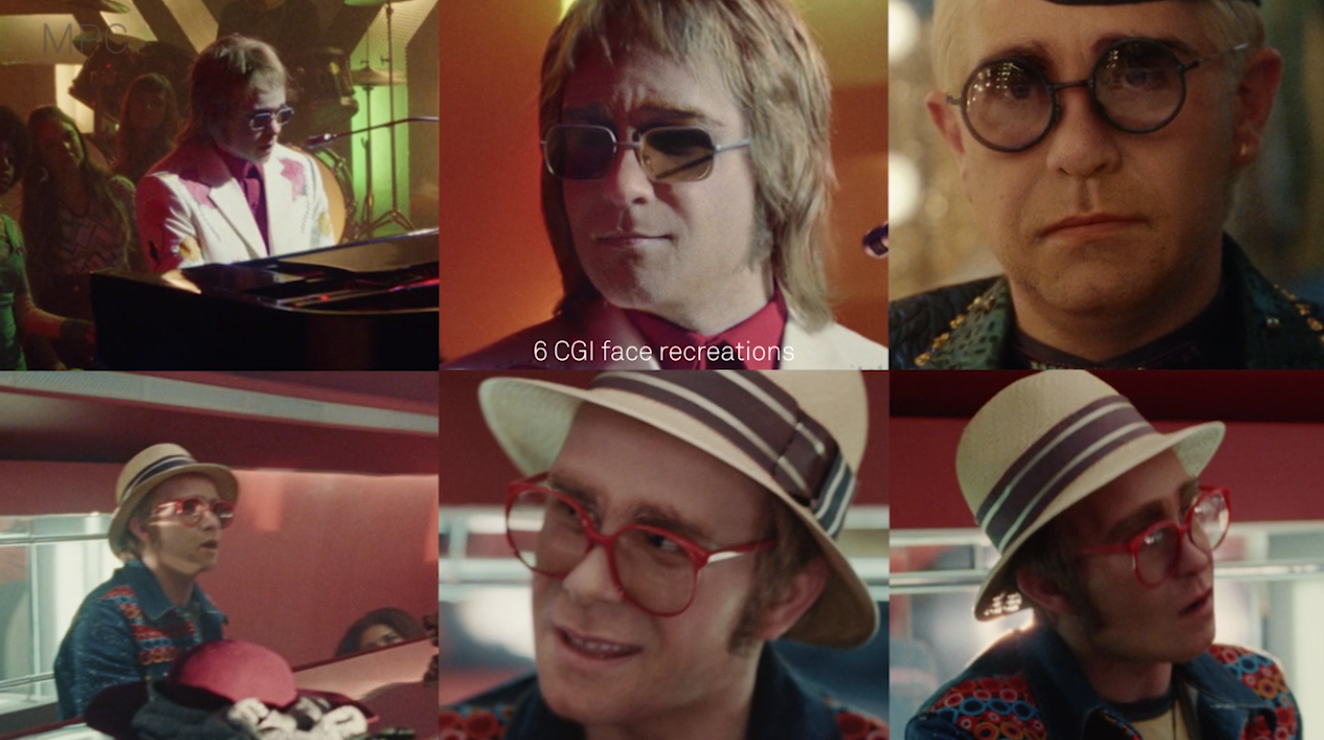 MPC a mis en ligne un making-of autour du spot The Boy and the Piano, que nous vous avions présenté en fin d'année et qui mettait en scène le chanteur Elton John tout au long de sa vie.
Le studio a donc multiplié les techniques afin d'arriver à plusieurs séquences crédibles ; un travail doublement délicat, puisqu'il s'agit à la fois d'un visage humain en gros plan et de traits physiques bien connus du public.
VFX breakdown for John Lewis & Partners 'The Boy and The Piano' from MPC on Vimeo.
Et voici le résultat final :
Crédits :
CLIENT
ADVERTISER: John Lewis & Partners
SOCIAL MEDIA MANAGER: (Senior) Eva Bojitos
CLIENTS: Customer Director: Craig Inglis, Marketing Director: Becky Brock, Head of Brand & Social Marketing: Liz LeBreton, Senior Brand Marketing Manager: Emma Wood, Brand Marketing Manager: Holly Kicul, Brand Marketing Manager: Emma Rule
CREATIVE AGENCY
CREATIVE AGENCY: adam&eveDDB
ART DIRECTOR: Ant Nelson
CHIEF CREATIVE OFFICER: Richard Brim
ACCOUNT MANAGEMENT: Katie Briefel
GROUP EXECUTIVE CREATIVE DIRECTOR: Ben Tollett
CHIEF PRODUCTION OFFICER: Anthony Falco
BUSINESS DIRECTOR: Sam Brown
INTERACTIVE PARTNER: Simon Adamson
SENIOR CONTENT PLANNER: Jess Taylor
ACCOUNT DIRECTOR: Skye Stoppani
PROJECT MANAGER: Ian Hughes
LEGAL COUNSEL: Emma Cowland, Annika Patel
SENIOR PRODUCER: Sally Pritchett
SENIOR PLANNER: Charlotte Wood
BUSINESS AFFAIRS: Aleyna Le Fevre, Amy Brunton, Dolores King, Gemma Davies, Klaudia Jozwicka, Lois Edwards, Mar Soler
ASSISTANT PRODUCER: Natasha Alderson
CEO: Tammy Einav
MANAGING PARTNER: Miranda Hipwell
MEDIA AGENCY
MEDIA AGENCY: MGOMD
BUSINESS DIRECTOR: Andrew Darby
ACCOUNT MANAGER: Lauren Ashford
CEO: Tim Pearson
EXECUTIVE DIRECTOR: Clare Peters
HEAD OF PLANNING: Clare Peters
HEAD OF RETAIL: David Bratt
PRODUCTION COMPANY
PRODUCTION COMPANY: Academy Films
EXECUTIVE PRODUCER: Simon Cooper
DIRECTOR: Seb Edwards
PRODUCER: Shirley O'Connor
PRODUCTION ASSISTANTS: Antonia Vickers
DIRECTOR OF PHOTOGRAPHY: Chase Irvin
HAIR & MAKE UP: Maralyn Sherman, Prosthetics: Connor O'Sullivan
BEHIND THE SCENES: Ronan Pollock
COSTUME: Joanna Johnston
PRODUCTION MANAGER: Rachael Donson
PRODUCTION DESIGNER: Robin Brown
OFFLINE
EDIT COMPANY: The Assembly Rooms
EDITOR: Sam Rice Edwards
POST PRODUCTION / VFX
POST PRODUCTION COMPANY: MPC
COLOURIST: Jean-Clement Soret
2D LEAD: Kamen Markov
2D ARTISTS: Daniel Benjamin, Kalle Kohlstrom, Pratyush Paruchuri, Shaik Abdul Adil, Dilshad Alam, Uday Veerepalli, Ragesh Ramachandran, Bruno Roosewelt, Kajal Pandya, Priyanka Dey, Rajesh S, Joshi John, Mahendra Natha Reddy, Gokula Krishnan, Kishan Katr, Aitor Arroyo
VFX SUPERVISORS: Anthony Bloor and Kamen Markov
VFX EXECUTIVE PRODUCER: Phil Whalley
3D LEAD: Anthony Bloor
3D ARTISTS: Jessie Amadio, Chris Welsby, David Bryan, Silvia Bartoli, Maximilian Mallmann, Kubisi Younis, Andy Steele, Tom Carrick, Ganesh Kumar S, Shridhar Bhat, Ankit Dheraj Toppo, Konduru Achiraju, Shaik Abdul Rahim, Elangovan Ganeshan
MUSIC
MUSIC SUPERVISION: Factory
MUSIC PRODUCTION: Anthony Moore
SOUND
SOUND COMPANY: Factory
PRODUCER: Rebecca Bell
SOUND DESIGN & MIX: Anthony Moore