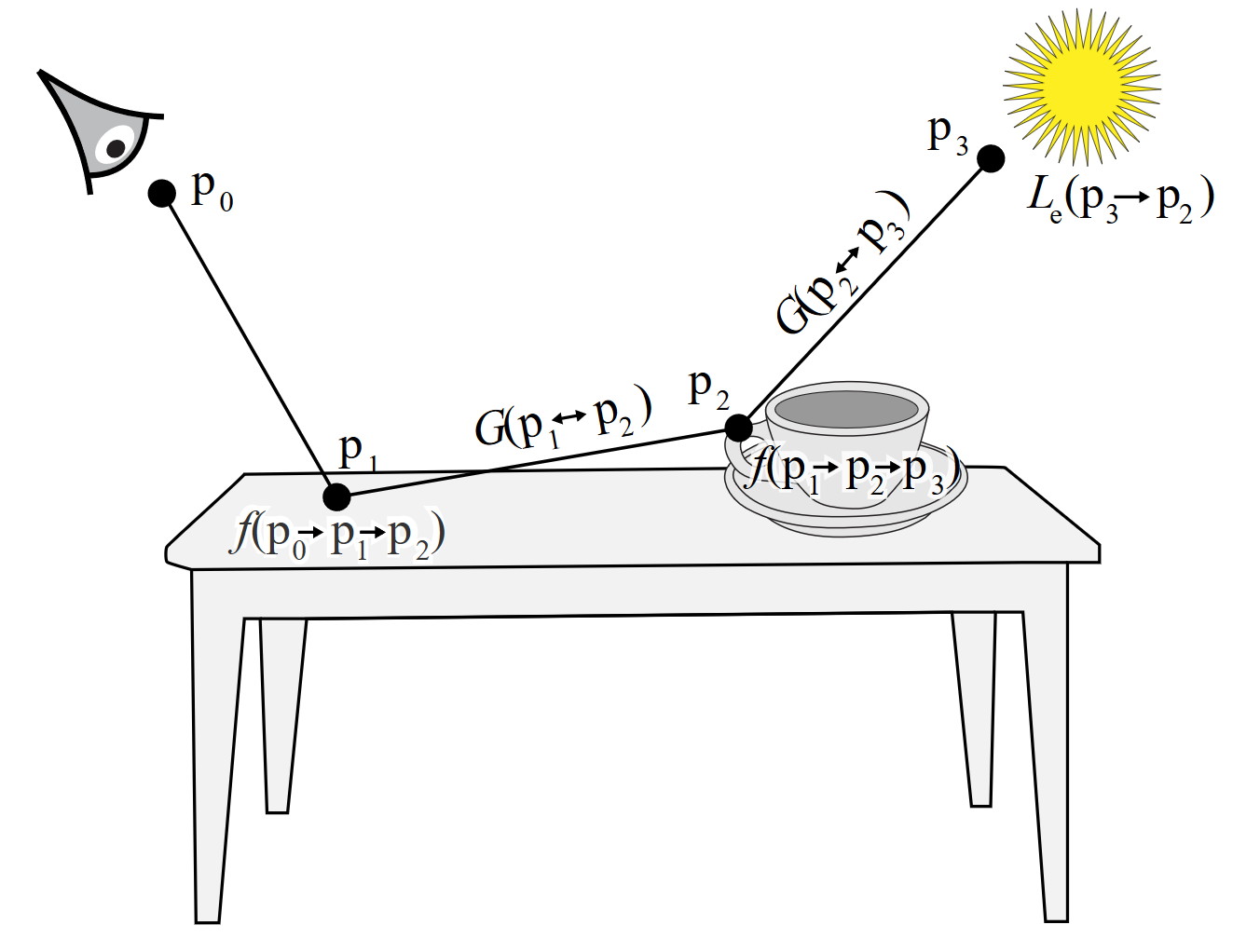 Matt Pharr, Wenzel Jakob et Greg Humphreys avaient publié il y a 14 ans l'ouvrage Physically Based Rendering: From Theory to Implementation. Au fil des années, ce livre sur le rendu physique a été plusieurs fois mis à jour et réédité ; il était devenu une référence. Il avait même reçu un Academy Award for Scientific and Technical Achievement, lors de la cérémonie des Oscars Scientifiques et Techniques.
Il reste toutefois très onéreux : environ 70€ sur Amazon.fr, par exemple, et une cinquantaine d'euros en numérique.
Les auteurs viennent cependant d'annoncer la mise en ligne intégrale et gratuite de l'ensemble de l'ouvrage, que nous ne pouvons que vous inviter à consulter. Mieux encore : l'équipe explique que son projet est de proposer chaque année une version mise à jour du livre, pour tenir compte des dernières avancées techniques. Pour y parvenir, elle a mis en place un Patreon qui financera l'initiative.
Vous retrouverez ci-dessous le plan complet du livre. Le site officiel propose une version interactive, avec des liens permettant d'accéder directement aux différents chapitres.
Preface
    Further Reading
Preface to the Online Edition
1 Introduction
    1.1 Literate Programming
    1.2 Photorealistic Rendering and the Ray-Tracing Algorithm
    1.3 pbrt: System Overview
    1.4 Parallelization of pbrt
    1.5 How to Proceed through This Book
    1.6 Using and Understanding the Code
    1.7 A Brief History of Physically Based Rendering
    Further Reading
    Exercises
2 Geometry and Transformations
    2.1 Coordinate Systems
    2.2 Vectors
    2.3 Points
    2.4 Normals
    2.5 Rays
    2.6 Bounding Boxes
    2.7 Transformations
    2.8 Applying Transformations
    2.9 Animating Transformations
    2.10 Interactions
    Further Reading
    Exercises
3 Shapes
    3.1 Basic Shape Interface
    3.2 Spheres
    3.3 Cylinders
    3.4 Disks
    3.5 Other Quadrics
    3.6 Triangle Meshes
    3.7 Curves
    3.8 Subdivision Surfaces
    3.9 Managing Rounding Error
    Further Reading
    Exercises
4 Primitives and Intersection Acceleration
    4.1 Primitive Interface and Geometric Primitives
    4.2 Aggregates
    4.3 Bounding Volume Hierarchies
    4.4 Kd-Tree Accelerator
    Further Reading
    Exercises
5 Color and Radiometry
    5.1 Spectral Representation
    5.2 The SampledSpectrum Class
    5.3 RGBSpectrum Implementation
    5.4 Radiometry
    5.5 Working with Radiometric Integrals
    5.6 Surface Reflection
    Further Reading
    Exercises
6 Camera Models
    6.1 Camera Model
    6.2 Projective Camera Models
    6.3 Environment Camera
    6.4 Realistic Cameras
    Further Reading
    Exercises
7 Sampling and Reconstruction
    7.1 Sampling Theory
    7.2 Sampling Interface
    7.3 Stratified Sampling
    7.4 The Halton Sampler
    7.5 (0, 2)-Sequence Sampler
    7.6 Maximized Minimal Distance Sampler
    7.7 Sobol' Sampler
    7.8 Image Reconstruction
    7.9 Film and the Imaging Pipeline
    Further Reading
    Exercises
8 Reflection Models
    8.1 Basic Interface
    8.2 Specular Reflection and Transmission
    8.3 Lambertian Reflection
    8.4 Microfacet Models
    8.5 Fresnel Incidence Effects
    8.6 Fourier Basis BSDFs
    Further Reading
    Exercises
9 Materials
    9.1 BSDFs
    9.2 Material Interface and Implementations
    9.3 Bump Mapping
    Further Reading
    Exercises
10 Texture
    10.1 Sampling and Antialiasing
    10.2 Texture Coordinate Generation
    10.3 Texture Interface and Basic Textures
    10.4 Image Texture
    10.5 Solid and Procedural Texturing
    10.6 Noise
    Further Reading
    Exercises
11 Volume Scattering
    11.1 Volume Scattering Processes
    11.2 Phase Functions
    11.3 Media
    11.4 The BSSRDF
    Further Reading
    Exercises
12 Light Sources
    12.1 Light Emission
    12.2 Light Interface
    12.3 Point Lights
    12.4 Distant Lights
    12.5 Area Lights
    12.6 Infinite Area Lights
    Further Reading
    Exercises
13 Monte Carlo Integration
    13.1 Background and Probability Review
    13.2 The Monte Carlo Estimator
    13.3 Sampling Random Variables
    13.4 Metropolis Sampling
    13.5 Transforming between Distributions
    13.6 2D Sampling with Multidimensional Transformations
    13.7 Russian Roulette and Splitting
    13.8 Careful Sample Placement
    13.9 Bias
    13.10 Importance Sampling
    Further Reading
    Exercises
14 Light Transport I: Surface Reflection
    14.1 Sampling Reflection Functions
    14.2 Sampling Light Sources
    14.3 Direct Lighting
    14.4 The Light Transport Equation
    14.5 Path Tracing
    Further Reading
    Exercises
15 Light Transport II: Volume Rendering
    15.1 The Equation of Transfer
    15.2 Sampling Volume Scattering
    15.3 Volumetric Light Transport
    15.4 Sampling Subsurface Reflection Functions
    15.5 Subsurface Scattering Using the Diffusion Equation
    Further Reading
    Exercises
16 Light Transport III: Bidirectional Methods
    16.1 The Path-Space Measurement Equation
    16.2 Stochastic Progressive Photon Mapping
    16.3 Bidirectional Path Tracing
    16.4 Metropolis Light Transport
    Further Reading
    Exercises
17 Retrospective and The Future
    17.1 Design Retrospective
    17.2 Alternative Hardware Architectures
    17.3 Conclusion
    Further Reading
A Utilities
    A.1 Main Include File
    A.2 Image File Input and Output
    A.3 Communicating with the User
    A.4 Memory Management
    A.5 Mathematical Routines
    A.6 Parallelism
    A.7 Statistics
    Further Reading
    Exercises
B Scene Description Interface
    B.1 Parameter Sets
    B.2 Initialization and Rendering Options
    B.3 Scene Definition
    B.4 Adding New Object Implementations
    Further Reading
    Exercises
References
Index of Fragments
Index of Identifiers