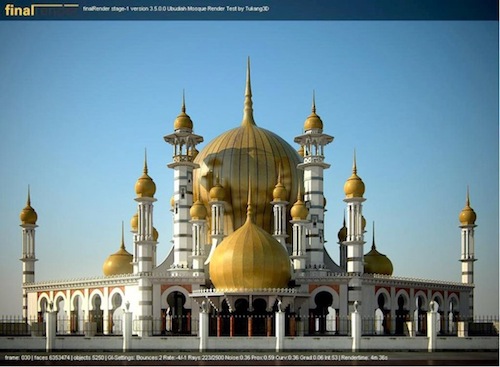 Voici une information qui ne manquera pas d'intéresser les utilisateurs de Final Render : Cebas vient de mettre à jour son moteur de rendu, avec un service pack 6 pour FinalRender 3.5.
Les améliorations concernant la stabilité, le workflow, le distributed network rendering qui a été amélioré.
La démo a également été mise à jour.
Voici l'annonce des nouveautés :
     cebas Visual Technology Inc. announces the release of its latest Service Pack 6 for finalRender 3.5 and finalRender 3.5 SE as well as for the integrated and standalone finalToon.
Service Pack 6 offers workflow enhancements as well as stability improvements. Distributed Network Rendering (DR) has been fine-tuned and enhanced; taking large scale rendering ahead even further! Ongoing fine tuning and German engineering ensure a great return on investment when using cebas products… Service Pack 6 is no exception!
Enhancements and Changes in Service Pack 6
– Rectangular Light: Shadows in realistic decay mode are now improved allowing the shadow of the rectangular light to provide scenes that are closer to real world effects.
    – Adaptive QMC Global Illumination Engine is enhanced for a better performance with DR (Distributed Rendering) when rendering the same frame on multiple PCs.
    – Adaptive QMC Global Illumination Engine is modified to avoid creating defective solution files with DR upon rendering. The solution files are global illumination cache files, which store the global illumination of a scene and can then be used to speed up rendering or to avoid flickering in animations.
    – HarmonicsGI has been enhanced and optmized as well to properly support distributed network rendering (DR).
    – Reported artifacts in caused by HarmonicsGI and rendering with DR have been isolated and solved.
    – Render Elements now offer a new feature « Include Atmospherics » controlling where Alpha from the Volumetric Light (atmospherics) can be applied in the Alpha Render Element through an optional switch.
    – Exclude/Include lists for objects within Render Elements is now properly supported when rendering with DR. Users can exclude unwanted objects from their scenes/images on multiple machines with no occurring faults or errors.
    – fR Advanced Material now has a reflect/refract material ID option feature.
    – A reflect/refract material ID option has alos been added in fR Architectural material.
    The ID can now be reflected in a mirror as well as refracted in glass when an object is seen in a mirror or through a glass.
    – finalToon no longer faces technical issues when a finalRender proxy is used in a scene.
    – finalToon now properly generates lines and toon effects for fR proxy objects.
    – finalToon Problems with camera clipping planes are fixed and capable of producing accurate results.
How to Get the latest Service Pack
Cebas members can log in to my.cebas.com and obtain SP6 from their « View Product Registrations » account menu. Registered users will automatically see all available download options.
Customers not currently registered on www.cebas.com, or having problems with the download, just send us an e-mail and we are on it! Please make sure to include all relevant information including serial number(s).