The Foundry annonce enfin le lancement de KATANA 1.0, son nouvel outil de lighting et de look development.
Développé en collaboration avec Animal Logic et ILM (qui l'utilise déjà pour ses productions en cours), KATANA devrait selon ses créateurs booster le pipeline de production des studios.
Ci-dessous, un aperçu de l'interface ; cliquez pour voir l'image en HD.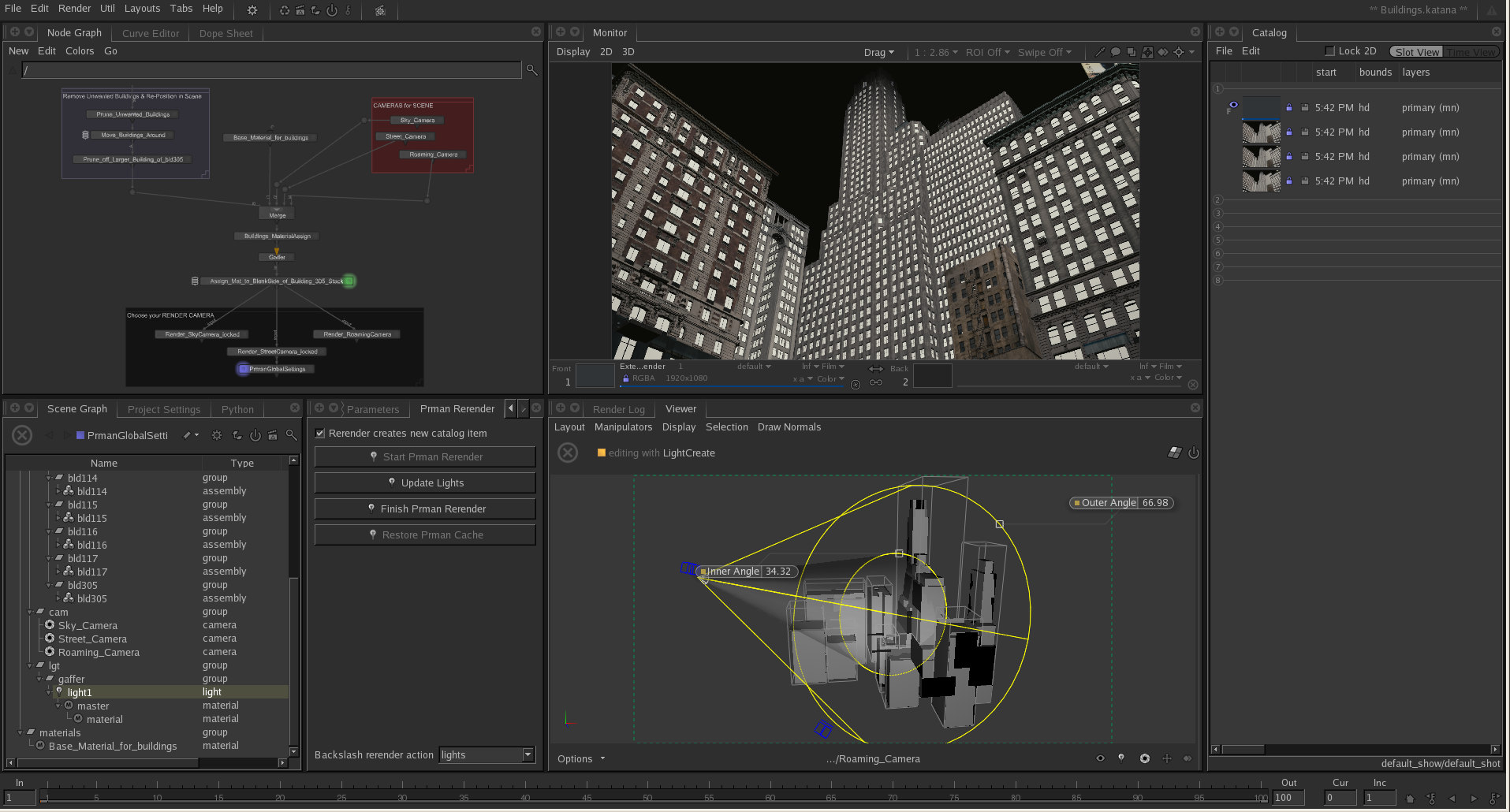 Pour un meilleur aperçu des possibilités, voici deux vidéos de démonstration présentées lors du dernier NAB et revenant sur l'utilisation de KATANA chez Sony Pictures Imageworks. La seconde donne la parole à Andy Lomas, interviewé plus haut.
Voici le communiqué de presse officiel de l'annonce :
The Foundry Releases KATANA 1.0
To the reception of ILM
London, 27 October 2011 – Today leading visual effects software developer The Foundry (www.thefoundry.co.uk) announces the release of KATANA 1.0, a look development and lighting tool, replacing the conventional CG pipeline with a flexible recipe based asset workflow.  In tandem with this release Industrial Light & Magic (ILM), a Lucasfilm Company, has purchased a site license of KATANA.
Currently in use for upcoming productions, ILM made this significant investment to boost their production pipeline across their ILM and Lucasfilm companies. As a KATANA site license holder ILM will deploy the software both in their San Francisco and Singapore studios
KATANA is specifically designed to address the needs of a highly scalable asset based workflow to:
–    Allow updating of assets once shots are already in progress.
–    Share lighting set-ups, such as edits and overrides, between shots and sequences.
–    Allow use of multiple renderers and specifying dependencies between render passes.
–    Allow shot specific modification of assets to become part of the lighting 'recipe' for shots to avoid having to deal with large numbers of shot specific asset variants.
Furthermore, KATANA is built from the ground up with the needs of modern productions in mind. Extensive APIs mean it integrates with current pipelines, shader libraries and workflow tools, whilst its collaborative nature allows it to scale to meet the needs of even the most demanding productions.
The main attraction of The Foundry's  KATANA stems from the flexibility of the product.  KATANA has the ability to produce incredibly complicated shots while allowing artists to retain control. 
John Knoll, Visual Effects Supervisor at Industrial Light & Magic said « We worked closely with The Foundry over the past year on specific features and functionality we wanted to see in KATANA and after implementing it in production, we believe the package shows great promise and we look forward to our continuing relationship with The Foundry as we integrate technologies such as KATANA into our production pipeline. »
Bill Collis, Chief Executive Officer, comments, We're pleased to release KATANA, a product highly anticipated by pipeline engineers and Lighting supervisors.  The Foundry is proud of its close association with industry leaders such as ILM. KATANA is yet another validation of The Foundry as the partner of choice for the VFX industry.
KATANA is backed by The Foundry, a highly regarded provider of high-end visual effects tools, and has been production-proven on over 20 shows since 2004 at Sony Pictures Imageworks.
For more information please visit www.thefoundry.co.uk/products/KATANA